Retail Store Hours and Locations
Our online store is open 7 days/week and 24 hours/day, but if you prefer to visit one of our retail locations, here are the retail store hours and locations:
Starting Tuesday June 16th, Instep stores will be open to the public once again! Please note our reduced schedule while we gradually get back to "normal".
Week of Canada Day change to store hours:
Both locations will be closed on Wednesday July 1st, 2020
Oakville will be open on Tuesday 11-3 instead of Wednesday this week!
Reduced Business Operating Hours-Temporary
Our retail locations in Milton and Oakville are now open to the public (starting June 16th, 2020) but we are operating on reduced business hours.
Milton location
Tuesday 11am to 3pm
Thursday 11am to 3pm
Saturdays - COMING SOON!
Oakville location
Wednesday 11am to 3pm (closed Canada Day)
Friday 11am to 3pm
Saturdays - COMING SOON!
These are temporary re-start hours. We will modify/add availability as the need arises. If you need to contact us for any reason, please do so at 905-876-0320 or [email protected] and we will respond as quickly as possible.
Retail Locations
Instep Activewear Milton
885 Main Street East, Unit 2
Milton, ON  L9T 5A7
Call now! 905-876-0320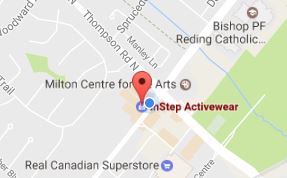 Instep Activewear Oakville
635 Fourth Line, Units 12-13
Oakville, ON  L6L 5W4
Call now! 905-844-4415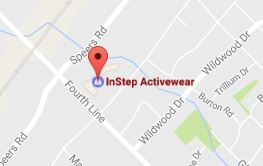 Instep Activewear Burlington LOCATION CLOSED PERMANENTLY