Retail Store Hours and Locations
Our online store is open 7 days/week and 24 hours/day, but if you prefer to visit one of our retail locations, here are the retail store hours and locations:
Effective March 17, 2020 we are adjusting our store hours and staffing to reflect the Health Canada recommendations of social distancing and non-essential business practices. These new hours will take effect until further notice. These hours could change without notice and we recommend calling ahead before visiting one of our retail locations in the coming weeks.
Adjusted Retail Store Hours-Temporary
Tuesday March 17th - 12pm to 4pm (limited hours to minimize contact)
As of Wednesday March 18th, 2020 we will be CLOSING OUR RETAIL LOCATIONS UNTIL APRIL 5TH, 2020.
This is a temporary measure to help #flattenthecurve and do our part to stop the spread. We can contain this virus but we have to act NOW! This decision was not an easy one to make but we hope to see everyone back in the stores on Monday April 6th! For now, keep healthy and keep dancing at home!
Please contact us if you have questions or concerns. Email us at [email protected] or leave us a message at 905-876-0320. We will get back to you and do our best to handle your request.
Retail Locations
Instep Activewear Milton
885 Main Street East, Unit 2
Milton, ON  L9T 5A7
Call now! 905-876-0320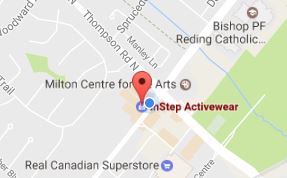 Instep Activewear Oakville
635 Fourth Line, Units 12-13
Oakville, ON  L6L 5W4
Call now! 905-844-4415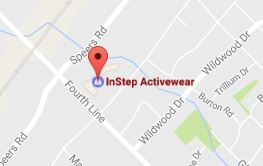 Instep Activewear Burlington LOCATION CLOSED PERMANENTLY